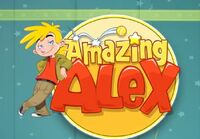 Amazing Alex is a game created by Rovio Entertainment, the developer of popular multiplatform strategy puzzle video game Angry Birds. Initially it was announced by Rovio's CEO Mikael Hed on Yle's breakfast television. The game is based on Casey's Contraptions, a game created by Noel Llopis (Snappy Touch) and Miguel Ángel Friginal (Mystery Coconut), whose rights were acquired by Rovio. The game will feature educational elements and revolves around Alex, described as a curious boy with interest in building things. The game will be launched on July 12, 2012 as a paid game in iOS and Android.
Game
Amazing Alex consists on little puzzles or challenges involving things like balls, books, ballons, and some other school supplies and toys. The player has to collect almost one start to pass the level and to move and add some objects in certain places to access the stars.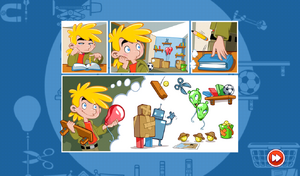 A maximum of 3 stars can be collected to have a higher score. In the game doesn't exist numeric scores, the progress of the player only is measured by achieving more stars on the levels.
Episodes
Custom Levels created by the player
References
Part of this information was taken from Amazing Alex article in Amazing Alex Wiki, under CC-BY-3.0.
External links