Welcome to the iOS Gaming Wiki

The iPod, iPhone and iPad Games database that anyone can edit.
160 articles and 2,989 total edits since September 24 2011
New! - Ask a Question on the Forums!
Portals
Featured Article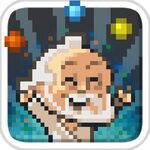 The Sandbox is a physics sandbox god game created by Pixowl. The player controls the elements and combines them to make new ones.


Friends of the iOS Gaming Wiki
More Information about our affiliates - Become an Official Friend



Improve this Article
This Week's Improvement Drive:
Desert Zombie: Last Stand
Please try to improve this article in whatever way possible!
News
Did you know...
...that as of the 17th February 2012, 25 Billion Apps have been downloaded from the App Store worldwide?
...that Infinity Blade was originally supposed to be for XBOX Kinect?
...that games alone have recieved over 15 Billion downloads from the App Store?
iOS Gamer of the Month
August's IOS Gamer of the Month:
Currently No Gamer of the Month
Please consider nominating a user!
Nominate a User

"Partially democratic!"
This Wiki is not affiliated in any way with Apple or related companies, and information is considered Fair Use under US Copyright Law, for informational purposes.